e7 Health offers the Polio Vaccine
---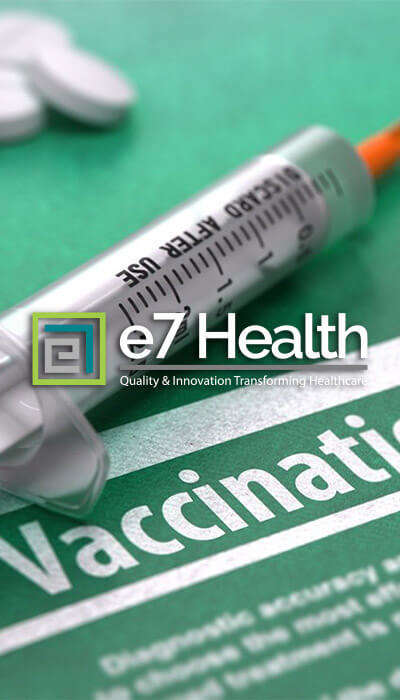 Recommendation:
e7 Health is a preventative health and wellness company, and strongly recommends that everyone traveling to a country that Polio (Poliomyelitis) still occurs should receive a vaccination against Polio infection. In the United States, infants and children should be vaccinated against Polio during routine childhood vaccinations. In adults who have received the childhood vaccinations and are traveling to areas where Polio still occurs, a booster dose is recommended.
---
Required vs Recommended:
The Polio vaccine is not required by any country at this time. This means that a person is permitted to enter the country whether or not they have received vaccination against Polio. A recommended vaccine is not required but most health authorities feel that a person should receive the vaccine as the likelihood and severity of disease clearly outweighs any risk from vaccination.
---
What is Poliomyelitis?
Polio is a disease caused by a virus. It is highly infectious and is spread person-to-person mostly through ingesting contaminated food or water. In some cases the infected person does not realize they are infected or only suffer minor illness that is characterized by upper respiratory infection, gastrointestinal disturbances, and flu-like symptoms, all of which usually resolve in less than a week. Polio infection may result in paralysis and/or death. There is no cure, but there is a safe and effective vaccine.
---
Polio is a virus. It can live in:
The throat
Human intestines
Central nervous system.
---
Some History of Poliomyelitis:
In the 1940s and 1950s, people with bulbar polio were immobilized inside "iron lungs" – huge metal cylinders that operated like a pair of bellows to regulate their breathing and keep them alive. Today, the iron lung has largely been replaced by the positive pressure ventilator, but it is still in use in some countries. Source: http://www.polioeradication.org/Polioandprevention.aspx The first case of Polio was described in 1789 by Michael Underwood in England as debility of the legs in children. Epidemics became increasingly severe in Europe and the United States and more infections arose in people of older age in addition to children. According to the CDC (Center of Disease Control), Polio has been eliminated in the U.S. due to the introduction of an effective vaccine in the 1950's. Prior to 1952, Polio had paralyzed approximately more than 21,000 people in the U.S. alone. Eventually, the world could be polio-free if every child continues to be immunized. Polio outbreaks still occur in other parts of the world, which is why it is important to see a Travel Medicine Specialist to ensure your protection against Polio and other vaccine-preventable diseases.
---
Where is Poliomyelitis?
Poliomyelitis disease continues to occur in several countries. Disease outbreaks and endemics may change at any time so it is important to see your Travel Medicine Specialist to ensure proper vaccination prior to travel. Polio Boosters are recommended for travelers visiting the following countries:
MIDDLE EAST
Afghanistan
India
Iran
Kazakhstan
Kyrgyzstan
Pakistan
Tajikistan
Turkmenistan
Uzbekistan
AFRICA
Angola
Benin
Burkina Faso
Burundi
Cameroon
Central African Republic
Chad
Congo
Côte d'Ivoire
Democratic Republic of the Congo
Ethiopia
Gabon
Gambia
Guinea
Guinea-Bissau
AFRICA CONTINUED
Kenya
Liberia
Mali
Niger
Nigeria
Rwanda
Senegal
Sierra Leone
Somalia
Sudan
South Sudan
Tanzania
Togo
Uganda
Zambia
Source: Update on the Global Status of Polio (2012). Centers for Disease Control. Retrieved on August 23, 2012 from the CDC.
---
The Polio Vaccine:
The Polio Vaccine is called Inactivated Polio Vaccine (IPV). It is an injection, usually given in the arm. Adults 18 years and older need IPV if they are traveling to areas of the world where polio exists or if they were not vaccinated as a child. Usually, adults who were vaccinated as a child need 1 "booster dose" prior to travel.
---
How To Save Money And Get Better Service By Choosing The Right Travel Medicine Clinic:
Only go to clinics that offer both vaccines and prescriptions. For many itineraries, including Central or South America, Africa, the Middle East, and Asia, CDC guidelines require both vaccinations as well as prescriptions. For your trip, you may need prescriptions for malaria, travelers' diarrhea, jet lag, and high-altitude illness prevention. Some vaccine clinics do NOT offer prescriptions. Always ask the clinic if they do both. Otherwise, you may have to pay for two office visits or administrative fees, not to mention the time and inconvenience of having to make two trips to two clinics. Worse yet, you may go on your trip without knowing you need a prescription.
Only go to clinics that carry all the vaccines available in the United States. Ask the clinic if they carry hard to find vaccines such as Oral Typhoid, Japanese Encephalitis, or Rabies vaccine. Often, some clinics do not carry all vaccines, or they special order them once they find a client. e7 Health has all vaccines available in the United States in stock.
Only go to clinics that offer you access to a physician if you need it. Ask the clinic if there is a physician you can talk to if you need to. Sometimes people have complex medical issues that require physician input. e7 Health offers access to board- certified physicians if needed.
Only go to clinics that can offer you in-house blood tests to check your immunity to vaccines you know you already had, or have been exposed to in your life. Always ask the clinic if they offer blood titer testing on premise. In some cases, you may not need the vaccine. A blood test (blood titer) can cost a fraction of getting the vaccine again. Further, e7 Health blood titer testing prices are a fraction of most major labs and we do the blood draw right in our clinic.
Only go to clinics that focus only in vaccine medicine. Many so called "vaccine clinics" also do urgent care, primary care, occupational medicine, or other unrelated medical services. e7 Health does no primary care or other unrelated medical services.
Only go to clinics that offer the Yellow Fever vaccine every day. Some clinics offer this only once every week or two. Ask the clinic if they offer Yellow Fever vaccines every day. Since Yellow Fever is required for entry in many countries, this vaccine may be mandatory for your trip. Also ask the clinic if they are qualified to give you a formal "Yellow Fever Exempt Letter" if you have contraindications to getting the Yellow Fever vaccine.
Only go to clinics that do not charge an administrative fee for follow up visits for vaccines in a series. Always ask if there is an administrative / office fee for subsequent visits. All e7 Health follow-up visits for vaccines in a series are not assessed an administrative or office visit fee.
---
Download Vaccine Information Statements (VIS)
Recommended Vaccines
e7 Health has ALL the recommended and/or required vaccines needed for your travel: