e7 Health offers the Pneumococcal Vaccine
---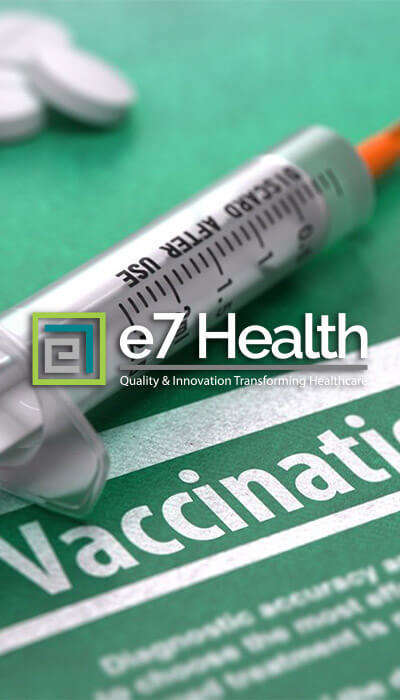 Pneumococcal vaccine protects against Streptococcus pneumonia bacteria which are spread through direct person to person contact and through respiratory droplets through the air. Most type of this bacteria cause disease. Pneumococcal disease is the number one cause of vaccine preventable illness and death in the United States. We offer same day or next day appointments and allow you to book your appointments online!
Streptococcus pneumonia bacteria causes pneumonia, blood infection, and meningitis. Symptoms include fever, chills, shaking, chest pain, productive or phlegmy cough with rusty colored sputum, shortness of breath, weakness, poor oxygenation, headache, vomiting, and rapid breathing (tachypnea). Infections can lead to serious complications such as infections of the lung surroundings, inflammation of the covering of the heart muscle, breathing obstruction, fluid in the lungs, and abscess formation in the lungs.
Approximately 175,000 individuals are hospitalized in the United States annually with pneumococcal infection among which 5-7% will die from the disease. Groups that are at greatest risk for developing pneumococcal disease include individuals over 65 years of age, individuals with certain health issues and weakened immune systems, very young infants, and people who smoke. Since the vaccine's release, incidence of invasive pneumococcal disease has been reduced greatly.
It is recommended that people who are at greater risk for becoming infected with Streptococcus pneumonia bacteria such as people over the age of 65 receive the vaccine. Other individuals who should receive pneumococcal vaccine include:
Individuals between 2 and 64 years of age with certain health conditions including immunosuppression.
Individuals with alcoholism.
Individuals between 19 and 64 years old who have asthma or who smoke.
Individuals who are taking medications that can interfere with the immune system.
---
Download Vaccine Information Statements (VIS)
Recommended Vaccines
e7 Health has ALL the recommended and/or required vaccines needed for your travel: